KIDS DISCOVER SANTA FE FOR FREE THIS 2017 SPRING BREAK
2nd Annual Kids FreeFest Features Complimentary Lodging & Adventures In The City Different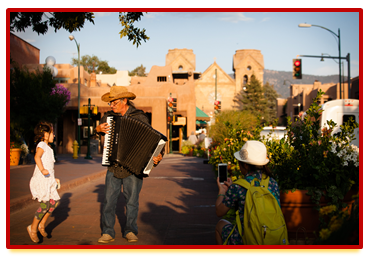 SANTA FE, NEW MEXICO November 30, 2016
: Santa Fe travel partners have joined forces again for
Kids FreeFest Spring Break 2017
: a second annual city-wide initiative that welcomes families throughout March and the middle of April* by providing kids 12 and under with complimentary lodging, meals, spa and culturally immersive activities in 'The City Different', America's oldest and highest elevation state capital and one of the world's most award-winning destinations for families seeking adventure, relaxation, and genuine culture and experiences.
Santa Fe is full of true family excitement whether people choose to hit the slopes at Ski Santa Fe, try out some new moves at the Skateboard School, challenge the junior foodie or artist with a cooking or art class—or even get the whole family involved in a treasure hunt. The city has regaled travelers from around the world with adventures and surprises for centuries.
"Spring Break is a special time for families to be together, have fun and make lifetime memories," said TOURISM Santa Fe Executive Director, Randy Randall. "Families deserve a break. We want our guests to discover new and exciting experiences without stressing the budget. As Santa Fe is all about family, it's only natural that we extend these offers."
Santa Fe Spring Break 2017 includes a variety of hotel choices and activities, treasure hunts, spa treats, and sport and outdoor adventure. There's also free art classes, exhibits, attractions, music, Flamenco classes, an Easter egg hunt—and of course some very delicious cuisine and including Santa Fe's own Northern New Mexican fare. This will be a truly different and unforgettable spring break for your family. To check out all the action, please visit
http://santafe.org/Spring_Break/index.html
.
Participating businesses as of November 30 include:
§
Hotel Santa Fe The Hacienda & Spa
§
Four Seasons Resort Ranch Encantado
§
New Mexico Performing Arts Society
§
Hilton Santa Fe Buffalo Thunder
§
Museum of International Folk Art
§
Rosewood Inn Of The Anasazi
§
Santa Fe Botanical Garden
§
Courtyard by Marriott Santa Fe
§
Meow Wolf "House Of Eternal Return"
§
Wildlife West Nature Park
§
Estrella Del Norte Vineyard
§
El Flamenco, EntreFlamenco